You'd think that instructions on how to clean a pushchair would be included in parenting classes. Sadly, that is not the case. Of all the equipment you buy for your baby, the pushchair is the one that has the most opportunity to get very mucky. Anything from sun cream to fruit juice can cause unsightly stains. To make things worse, it is on show to the whole world a lot of the time!
We know that busy parents do not have a lot of time to dedicate to keeping baby strollers clean. So, we have put together a simple guide based on 8 steps that will get your pushchair clean in minutes!
What you will need to deep clean a pushchair
Here's a complete list of what you will need:
Bowl of warm soapy water
Vacuum cleaner
Scrubbing brush
Nail brush (or old toothbrush)
Cloths
Spray bottle
Disinfectant spray suitable for food areas
Microfibre cloth
Step #1 Remove loose dirt and crumbs
It is best to clean the pushchair outdoors or in a garage if you can. The floor surface where you are carrying out the cleaning is likely to get dirty and wet. If you have to do this job inside, avoid carpeted areas or any delicate areas of flooring.
Babies and toddlers love to have finger foods in pushchairs so there is always a collection of loose crumbs and dirt on the seat. The first step is to brush these off using a soft fabric brush which will also remove sand and small stones. Alternatively, use a vacuum cleaner to vacuum up the crumbs. Pay particular attention to all those nooks and crannies and seams where small crumbs collect.
Step #2 Take off any parts suitable for machine washing
The fabric parts of most pushchairs can be washed in a washing machine. However, always check the label to make sure that you are following the washing instructions. Most will need a cool wash on a gentle cycle.
Even if stroller liners cannot be machine washed, they will need to be removed from the baby stroller so that your cleaning job can be thorough. You may be able to hand wash them in a bowl of hot soapy water.
Once the fabrics have been machine or hand washed, make sure that they are completely dry before putting them back on the stroller. Drying them outside in the sun is the best option as the ultraviolet in sunlight is both a stain remover and a gentle disinfectant.


Step #3 Scrub any fabric that is not removable
Many strollers and pushchairs do not have removable seat pads so these will need to be cleaned in situ. Mix some warm water and some gentle (baby-friendly) soap and dip a cloth into the soapy water.
Wipe down the whole surface of the seat and/or hood. To remove stubborn marks, you may need to scrub a bit harder but be careful that you do not damage the fabrics. Then, rinse off the soap residue with clean lukewarm water.
It is essential that the stroller is dried thoroughly to prevent mould from forming. You can speed up the process by wiping away any excess water with a soft towel. Then, leave it to air dry - preferably in the sun.
Step #4 Tackle mould stains
If you already have some mould stains on the stroller, you can try to clean them using a natural cleaning solution. Start by brushing at the stain with a firm scrubbing brush. Take care to do this in a well-ventilated area and away from your baby to avoid the inhalation of mould spores. Next, dab some lukewarm water onto the mould stain, apply some lemon juice to the fabric and then sprinkle with salt.
If there are larger areas of mould, you could try mixing three parts white vinegar with two parts water. Use a spray bottle to apply the solution to the fabric and for stubborn stains leave it there for a while. Wash it off with warm water.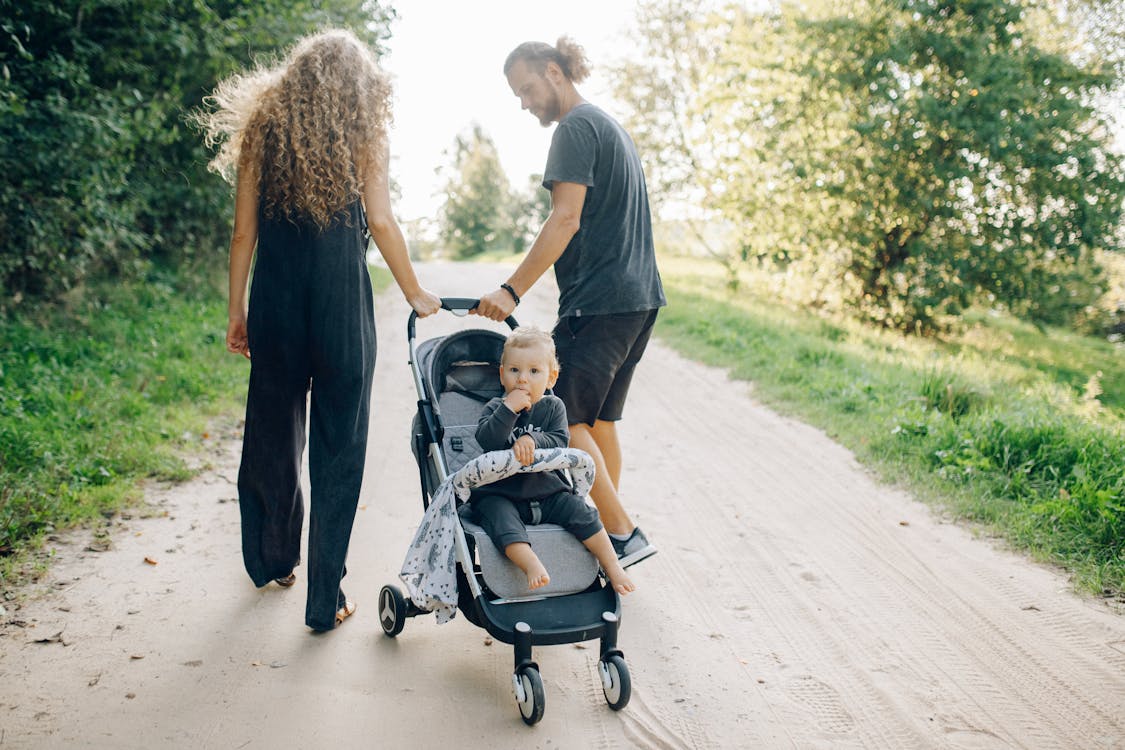 Step #5 Wipe the chassis
It is best to remove plastic parts from the frame if you can because these can be cleaned separately.
The chassis or frame is best cleaned with a solution of washing up liquid and water. Use a cloth dipped in the solution to scrub the frame. For hard to reach places you could use a small brush such as a toothbrush. Stubborn marks on the frame can be tackled with a scourer but you need to be careful not to scratch the surface as this can cause rust.
The final step is to rinse the frame with clean water and let it dry before putting the pushchair back together. If you are in a hurry, dry the frame with a microfibre cloth.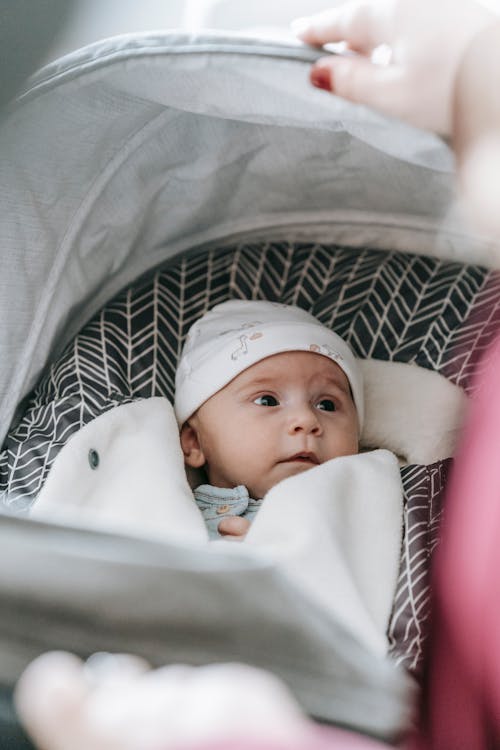 Step #6 Clean cup holders and storage areas
You've probably already noticed that it is the pushchair storage areas and cup holders that get very sticky. If these are removable, the best option would be to remove them and soak them in a bowl of soapy water.
Otherwise, use a vacuum to remove loose crumbs. Then, use a cloth dipped in soapy water to thoroughly wipe them. Again, an old toothbrush is very useful to get into nooks and crannies. Rinse the plastic thoroughly and finish off with an anti-bacterial spray that is suitable for food preparation surfaces.


Step #7 Don't forget the stroller wheels
Sadly, stroller wheels pass through all sorts of disgusting things on the pavement and are then wheeled back into your home. It's important to give them a good clean every now and again.
Dip a scrubbing brush in some warm soapy water and give them a good brush. Stubborn marks can usually be removed with a bit of vigorous scrubbing.
Step #8 Check for signs of wear and tear
One of the most important top tips for keeping your baby safe in a pram or stroller is to check regularly for signs of wear and tear. As pushchairs are used very often, both the chassis and the fabric parts can get worn. In extreme cases, a failure of the brakes or safety straps could put a life in danger.
So, it makes sense to take this opportunity to check everything over. Does anything look obviously worn or broken? If it does, find someone who can repair or replace the broken part.


FAQs
How do you deep clean a very dirty pushchair?
If the pushchair is very dirty, it is best to dismantle it as much as possible before you start. It may even be necessary to hose it down in the garden using a hosepipe. Put as many parts as you can in the washing machine and let them dry in bright sunlight.
What cleaning products can you use on a stroller?
You can remove most dirt from pushchairs with warm soapy water. A solution of washing up liquid is fine. However, you will need to give stubborn marks and stains a good scrub. Mould stains can be removed from the fabric with lemon juice or a vinegar solution.
How often should you clean a pushchair?
If you can get into the habit of cleaning a pram or baby stroller on a regular basis, you will have a much easier job. The longer you leave it, the harder work it will be. On the other hand, no one has the time to be doing this job every day so, it is a case of striking a balance. One useful approach is to clean up spillages as soon as possible to try to prevent staining and mould growth. Assuming that your baby uses the pushchair every day, give it a quick clean every week and a full clean once a month.
The exceptions to this are areas such as food trays which need a good wipe with warm soapy water every day. You may also want to use a mild disinfectant spray that is designed for use on food surfaces and rinse it well afterwards with clean water.
Why is cleaning a pushchair important?
Food and dirt debris in a pram or pushchair is an ideal environment for both moulds and bacteria to grow. Regular washing and cleaning are needed to make sure that a pram or pushchair is a hygienic place for your baby to spend time.
It is also important to clean the metal chassis to prevent rust and keep all the moving parts working properly.
Sources
Baby and toddler meal ideas - NHS
Pushchairs and Buggies - Royal Society for the Prevention of Accidents